Purchasing and Replacing Parts for Your Riding Mower
Craftsman riding mowers have a well deserved reputation for ruggedness and durability, as well as efficient performance on even challenging terrain. However, just like one has to perform routine maintenance on a car to keep it operating at its best, the same applies to riding mowers.
Because riding mowers are often used on tougher patches, on uneven terrain, and for longer periods of time, they tend to take more abuse than standard push mowers. Fortunately, their parts are about as easy to come by as for push mowers.
Parts for riding mowers are often separated into the following categories: chassis, ground drive, engine, steering, seat, mower deck, lift, transaxle, and electrical.
Due to the sheer number of individual parts comprising each of these categories, this article cannot cover all of them, but will discuss a few of the more important parts that may need replacing over the lifetime of the riding mower.
Wheel and Tires
You can prolong the life of your wheels and tires by avoiding or going slow over hills and bumps.
Craftsman brand riding mowers
are durable, but repeated vibrations from bumpy terrain will tend to loosen things up over time.
Wheels are very straightforward to install - simply use a wrench to take the old wheel off the axle and tighten the new one on. Tires can be a bit trickier and may require a couple screwdrivers and C-clamps to get onto the wheel.
Fortunately, there are several videos and written instructions online to refer to if needed. Look for 4 gauge wheels for the best riding and even cutting performance.
Blades
| | |
| --- | --- |
| | |
| Standard Blade | Mulch Blade |
Blades dull over time depending on how much mowing you are doing, so blade replacement will be essential to get the most out of your Craftsman riding mower and make your mowing experience as enjoyable and efficient as possible.
Blades can come in a couple varieties - standard blades, and mulch blades. Standard blades are used for grass cutting, while mulch blades are used for mulching.
In case you're not too familiar with mulching, it involves spreading various lawn or garden material over the landscape to conserve soil moisture, reduce erosion, minimize weeds, provide protection in cold weather, and generally enhance the appearance of your yard. For mulching, just swap out the standard blades for the mulching blades.
Belts and Pulleys
There are a variety of belts in riding mowers from transmission belts and drive belts to deck belts and blade belts. Belts are known to fail in riding mowers just as they do in cars, but oftentimes, a belt will tear or snap not due to a defect in the belt itself, but rather due to dysfunction operation of the pulley.
If yard clippings or other debris get caught in the pulley and cause increased friction on the belt, the belt can fail prematurely. Faulty bearings can also cause a dangerous increase in friction. Therefore, before purchasing a new belt for your riding mower, consider having it inspected by a professional to determine whether it is indeed a new belt you need, or a new pulley.
Accessories
In addition to the above replacement parts, there are a number of accessories you can add to your Craftsman riding mower. The
High-Speed Sweeper
sweeps grass clippings, leaves, lawn debris, and more into a reinforced collection bag as the mower advances. It has a universal fit attachment that can connect quickly to any Craftsman riding mower's hitch plate.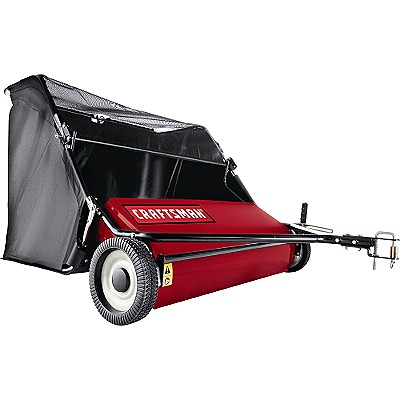 The
Craftsman Tractor Cab
will keep you warm and dry even in the most inclement weather. It features a wrap-around shatter-resistant plastic windshield that can withstand sub-zero temperatures.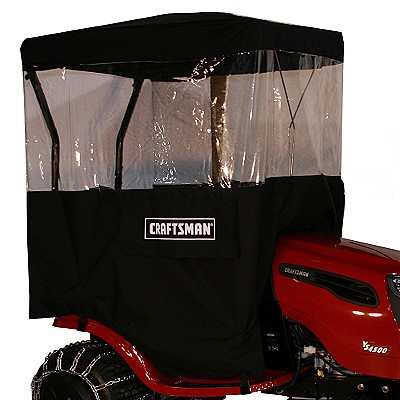 The
Craftsman Lawn Aerator
hitches to the back of the riding mower and revitalizes your lawn by removing 3/4 in. diameter plugs of soil, allowing more water, air, and nutrients to reach the roots. The lawn aerator is especially useful in areas of compact soil and drought damaged lawns.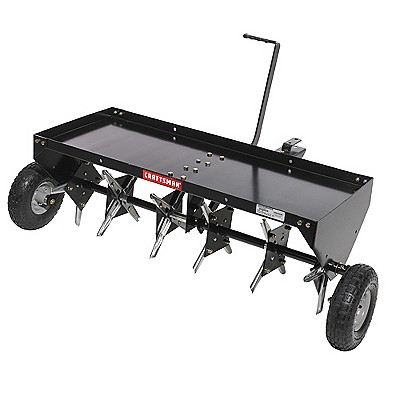 These parts and accessories, and many more not mentioned here, are available at Craftsman.com as well as Amazon.com. Get the most out of your riding mower by checking out all the options.